Dakini Day Chod: Living in the Charnel Grounds
With Pema Khandro
October 12, 2020
A deep dive in the profound method and view of Tibetan Chod meditation and the four feasts.
This is a Tibetan meditation which is a potent, dynamic practice for cutting through fear and facing death. It is a practice of healing through ultimate compassion. The practice is the Dzogchen Chod, known as Khandro Geykyang, the Laugher of the Dakinis, the concise version. Rinpoche will lead the practice and discuss its meaning. This has been a monthly practice in Virginia for the last two years on Dakini Day, but in-person Chod practices are cancelled and Pema Khandro will now be offering monthly Chod practice online for the first time, in order to support Vajrayana practitioners during the worldwide pandemic.
Donations Welcome ~ No one turned away for lack of funds
Dakini Day Chod classes are recorded and made available to members after the live class to watch at your convenience any time. For more information about membership levels and benefits of membership, visit Become a Member.
DONATIONS WELCOME ~ NO ONE TURNED AWAY DUE TO LACK OF FUNDS
Leader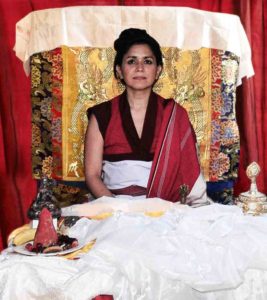 Pema Khandro
Pema Khandro is a Tibetan Buddhist teacher, humanitarian and scholar specializing in the philosophy and practice of Tibet's Buddhist Yogis. Her mission is to make in-depth Buddhist education accessible, to open the doorway to the great treasures of philosophy, meditation, medicine and art contained in Tibetan Buddhism. Pema Khandro is the spiritual leader of the Community of Buddhist Yogis in North America, she is the founder of Ngakpa International, the Yogic Medicine Institute, Dakini Mountain, and Ngakpa House, a charity which supports the education of children and elders in the Himalayas. Pema Khandro is an authorized Lama and lineage holder of…
Learn more about Pema Khandro