The Bardo Teachings with Pema Khandro
With Pema Khandro
March 19 - 21, 2021
Bardo refers to the experience of rupture- of endings and uncertainty – that leave us suspended in the liminal spaces between what was and what will be. Bardo refers to dying and post death as well as to states of radical transformation in life. Pema Khandro will teach on the six bardos, Buddhist instructions for how to live wakefully in the phases of change within our lives.
Mornings will focus on Instructions for awakening in the six bardos.
Afternoons will focus on practice for dying loved ones.
And evenings will focus on learning the practices to guide the deceased.
---
TUITION – This is an OPEN retreat. Register to come to any or all of the retreat days.
Sliding Scale for Any/All Retreat Days: $270-395
50% Discount for Snow Lion Members
Free with Sustainer Membership, All Access Pass
*Apply Member Codes at checkout for Membership Discounts
---
Financial Aid
Financial aid scholarships are available.
The course costs are set at a minimum fee already, with financial aid built into all tuition rates. Because we are a non-profit organization, the costs of all activities and overhead of our organization must be covered by the participants of the courses or donations and all courses are offered at below cost. For those who are experiencing genuine financial hardship and wish to enroll in the course, Financial Aid applications are available.
Email to Apply at Info@BuddhistStudiesInstitute.org. Applications must be received in advance.
Leader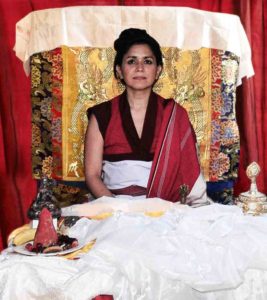 Pema Khandro
Pema Khandro is a Tibetan Buddhist teacher, humanitarian and scholar specializing in the philosophy and practice of Tibet's Buddhist Yogis. Her mission is to make in-depth Buddhist education accessible, to open the doorway to the great treasures of philosophy, meditation, medicine and art contained in Tibetan Buddhism. Pema Khandro is the spiritual leader of the Community of Buddhist Yogis in North America, she is the founder of Ngakpa International, the Yogic Medicine Institute, Dakini Mountain, and Ngakpa House, a charity which supports the education of children and elders in the Himalayas. Pema Khandro is an authorized Lama and lineage holder of…
Learn more about Pema Khandro